Tracking competitors' marketing strategies including search rankings, content, social mentions, emails, and more is one of the best ways to improve your own marketing communications. This article will show you some easy (and free) methods to spy on your competitors by hacking some common tools and using other not-so-common tools to gain valuable insight into their marketing strategies.
Google
Google offers an insane amount of data on your competitors. Google Search Operators are a great way to single out your competitor's website for their top keywords and their best sales pitches. How to Use Google Search Operators Our favorite Google Search Operator is site:domain.com (replace domain.com with your competitor's domain). This will pull up all the webpages indexed by Google. This is great to see since many top Search Engine Optimizers believe that Google displays these pages by rank. This means you can see your competitors top pages. Here is an example using the popular travel site Viator.com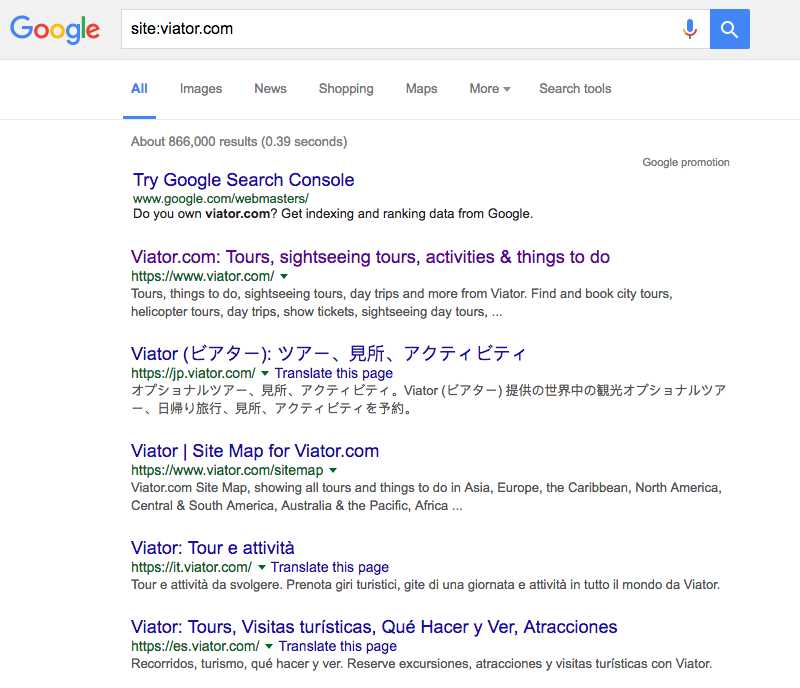 We don't know much about Viator.com but by using this method we can see that after Viator's homepage, their most popular pages were from Japan, Italy, and Spain. We might research these areas and focus a bit more on marketing and use Search Engine Optimization (SEO) on these locations since they may be highly trafficked pages and areas. Let's use a local Las Vegas of a company I admire.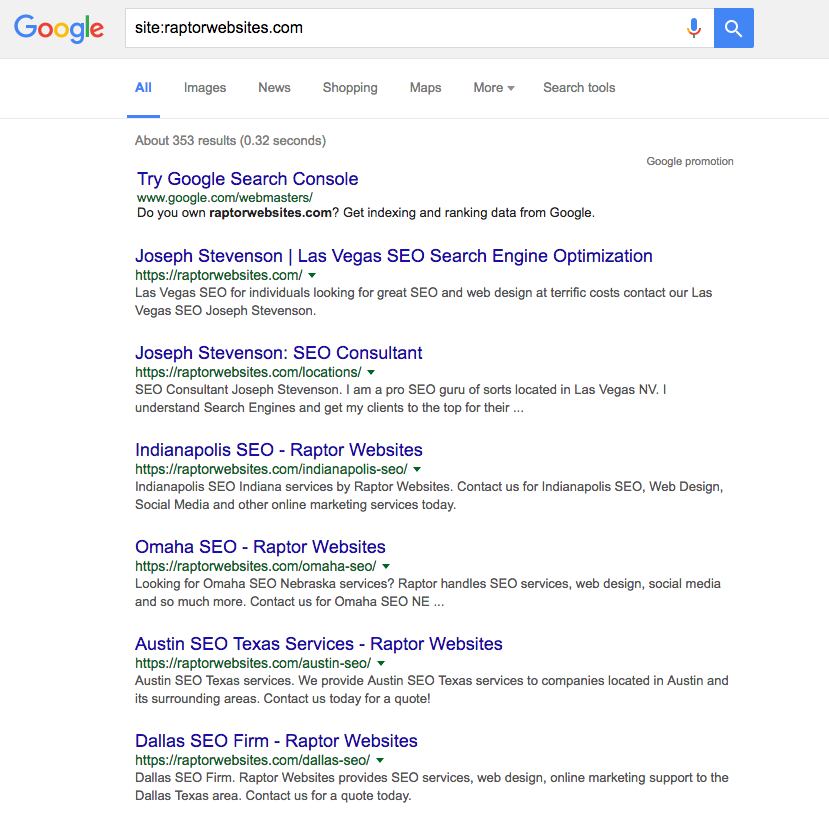 Quickly reviewing Raptor Websites' titles and descriptions we can see the letters SEO appear often. Digging further we can see they use terms like SEO services, SEO Las Vegas, SEO Austin, SEO Consultant, etc. Raptor Websites are targeting these terms with their search engine optimization strategies. These may be terms to research further and see if they are profitable and worth competing on.
Google Alerts
Google Alerts allow you to be alerted whenever your keyword or phrase has been indexed by Google.

You can set up Google Alerts by visiting
www.google.com/alerts
A great way to use these is to monitor your competitors' names (and yours). This will keep you up to date on their new promotions, blog posts, press releases, and media appearances. A large part of marketing is being quick to respond to competitors promotions and campaigns. Google Alerts also allow you to use Google Search Operators like quotation marks and the operator AND as well as OR. This makes your Google Alerts incredibly powerful. Using generic terms will pull in many search results while using search operators will return specific queries. This will allow you to remove a lot of irrelevant search terms. Here is a great article on Google Alerts. 
http://www.guidingtech.com/9485/7-interesting-ways-to-use-google-alerts/

SEMRUSH
A favorite tool of ours, SemRush offers you some free analytics on your competitors. After you've typed in your competitor's domain, you are given some of their most profitable keywords, advertising history and more. Using Viator.com, I am able to see their estimated advertising spend as well as how many keywords they are bidding on. Let's break down a couple areas. Let's start with advertising.

Viator.com is estimated to be spending $150,000 or more on paid advertising and are targeting a wide range of keywords (60,000). Their most popular keywords are in the table below (click to open in full screen).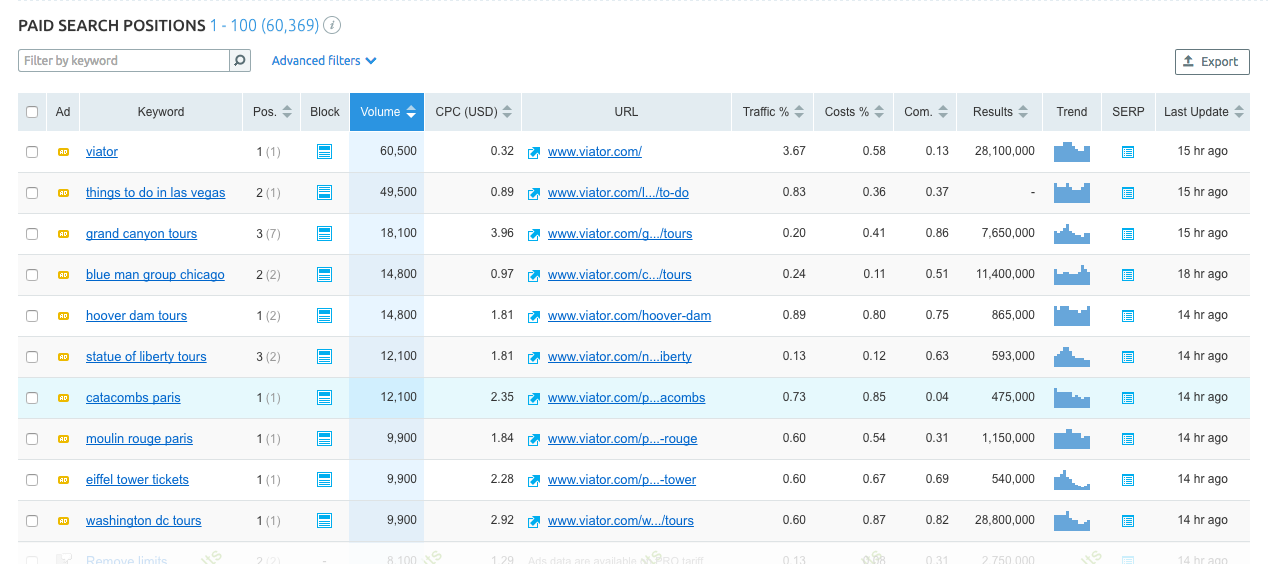 They are advertising on branded terms like "viator" and "viator.com" but they are also advertising heavily on "things to do in las vegas," "grand canyon tours," and more. This is a great place to get insight into what keywords they are actively targeting with their paid advertising campaigns. We must assume that Viator.com is consistently monitoring their paid advertising campaign for profitable keywords and removing keywords which are eating into their budget.
Additional Competitors
You can even use semrush.com to locate additional competitors and see who is advertising against viator.com (or your competitors). You can start this process over again with any domain on this list to locate their best keywords (maybe some viator.com hasn't found) and gather more insight.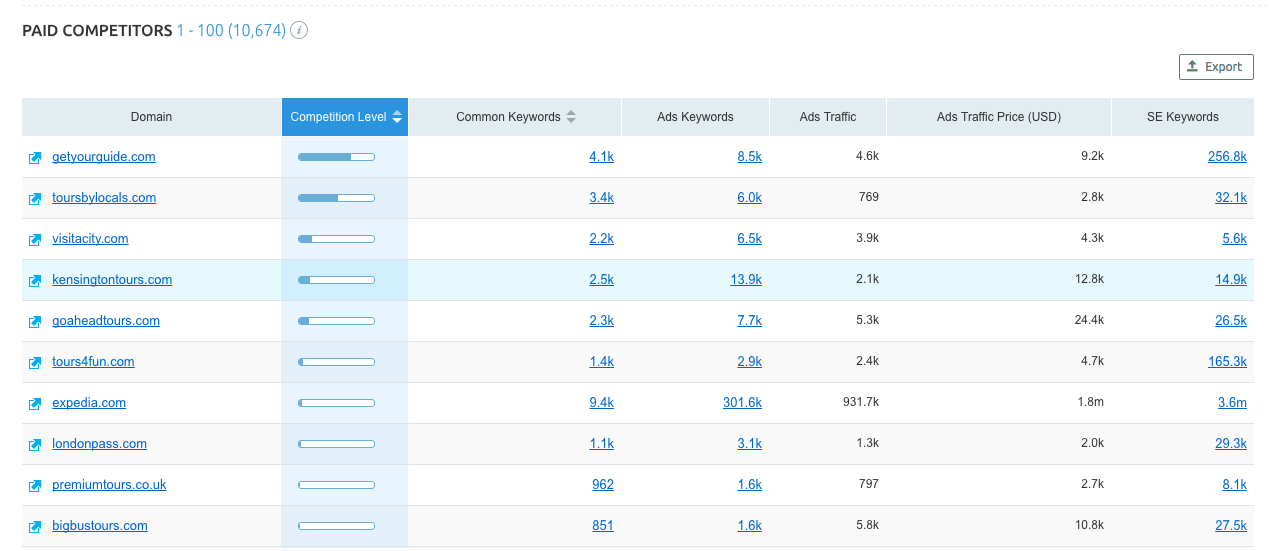 Organic Search Results
Semrush.com also provides you with organic search results. Using the domain, you can see which keyword drives the most estimated traffic and what position the specific page appears on.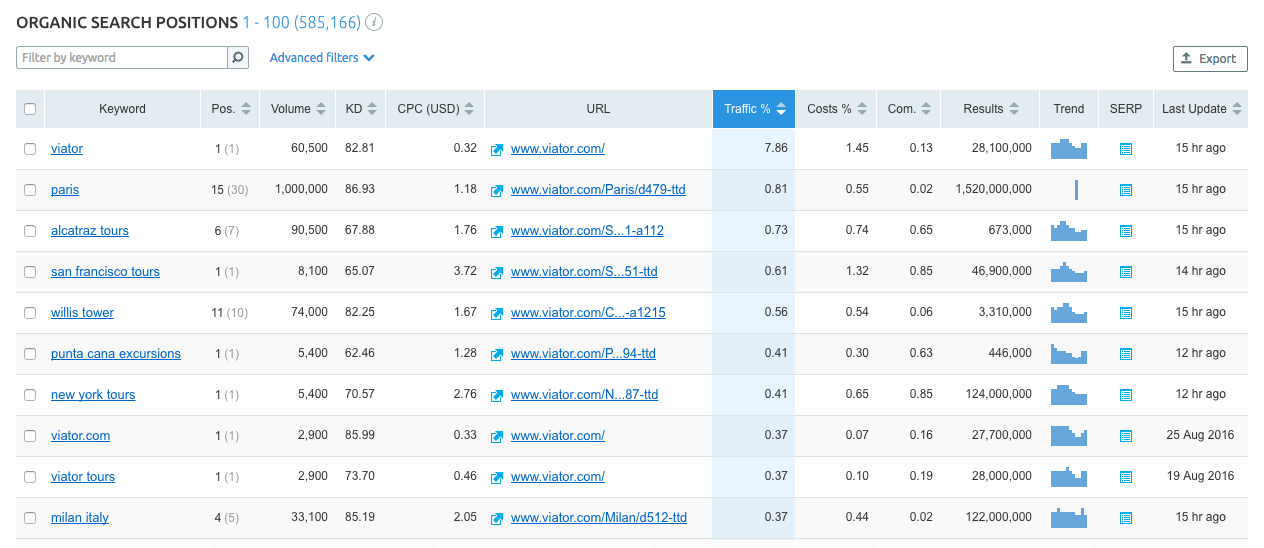 We hope you received some valuable insights into competitor research. Semrush is a great tool to use to gather actionable intelligence for your paid or organic marketing campaigns.
"This sounds exhausting, isn't there an easier way?"
Yes! Collecting all this information can be overwhelming and could take hours, or maybe days. If you already have a competitor in mind and would like a free in-depth analysis on their marketing strategies including:
Top Keywords
Keyword Rank Gains and Losses
Page One Keywords
Traffic Sources
Time Actively Advertising Online
Top Organic/Paid Competitors
Competitor Shared Keywords
Most Profitable Ads
Organic Ranking History
Top Inbound Links
and more
Click the button below and provide us with a URL and your email and we will send you a free competitor analysis report.