If you've ever visited a Facebook page, you'll notice different individuals with attached designations to them – admin, editor, etc. Facebook enables businesses to have multiple people act as managers of their pages. In fact, it allows six different page roles. Here is the table and a list of each type of Page role and what each is permitted to do on a Facebook Page: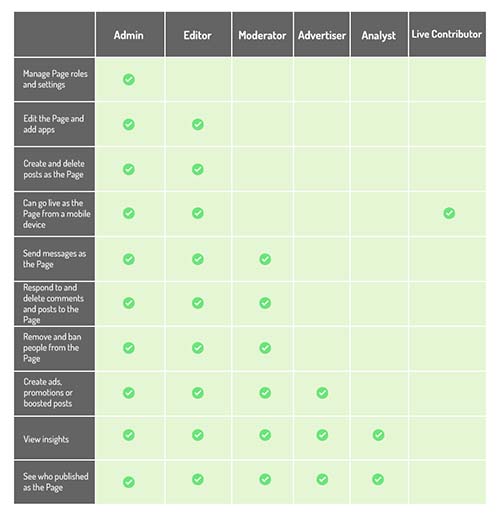 Admin
An admin has the most authority and access as manager to a page. An admin can manage and assign all other page roles and settings. An admin can also:
Edit the page and add apps
Create and delete posts
Create ads
Send messages via the Page
View Page Insights
See who published as the Page
Respond to and delete comments and posts to the Page
Remove and ban people from the Page
Editor
An editor role is perfect for employees who are content creators for the business's Facebook Page and manage daily activities. The editor has all of the access of an admin with the exception of assigning Page roles and managing settings.
Moderator
A moderator cannot create content for the page but can answer questions and respond to comments and create ads, promotions and boosted posts. This role is simply able to moderate the activities on a Page after content has been posted, and also promote the Page and analyze its Insights. A moderator can also remove and ban people from the page.
Advertiser
The advertiser role is set up for anyone who creates and implements ads for the Page. This role also has permission to view Page Insights and see who has published as the Page.
Analyst
An analyst can help you discover your Page's most popular posts and know when your followers are online. The Insights Analyst is exclusively allowed to see the Insights of an organization's Facebook Page and see who has published as the Page.
Live Contributor
This role's only capability is to go live as the Page from a mobile device. As both a Facebook Page and business owner, it's fairly important to have complete control of your Page and to limit who else has access to it. Businesses, however, can definitely benefit from having multiple people perform different roles in order to maintain and update your Page day by day. For information on how to assign roles to a Facebook ad account, see this
article