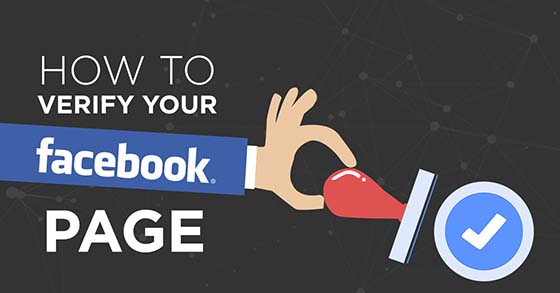 You might want to have that blue check mark on your Facebook account, but you just don't have the exact idea how to do it. However, it is important that you have this blue check mark as this is the best proof that you are authentic, that you really exist, and that you are a credible business.
When you have that tiny symbol next to your business' name, you can tell everyone that you are a business that people can trust. This also helps you build your brand image more successfully.
Hence, it is important that you know how to verify your Facebook Page in order to earn people's trust and help establish a more official and credible presence. That being said, it is not surprising why most businesses want to earn that Facebook verification for themselves.
To ensure that you do it right, let us understand how to verify your Facebook Page and your Facebook profile, and know everything about the verification process.
The Reason for Verifying Your Page or Profile
You create different social media accounts for your business to prove to your audience that you are real and can be trusted. This is also how the verification check marks work.

They tell users that they have come to the right place. When users see that your Facebook page has a blue checkmark, they will immediately know that your business is real and they can interact with you when they have any concerns. This way, you'll be able to develop good relationships with them through your social media accounts.
What is amazing about this is that the verification will also help your page or profile rank higher in both Facebook's and Google's search engines.
The Blue and Gray Checkmarks on Facebook
Checkmarks that appear next to pages and profiles on Facebook are categorized into blue and gray colors. If you see a blue checkmark, it indicates the confirmed authenticity of pages, public figures, and brands. It confirms that this is the official account for a brand, business, or person.
If the check mark is gray, it indicates a confirmed location for a specific business. This can also help boost your business' credibility on Facebook.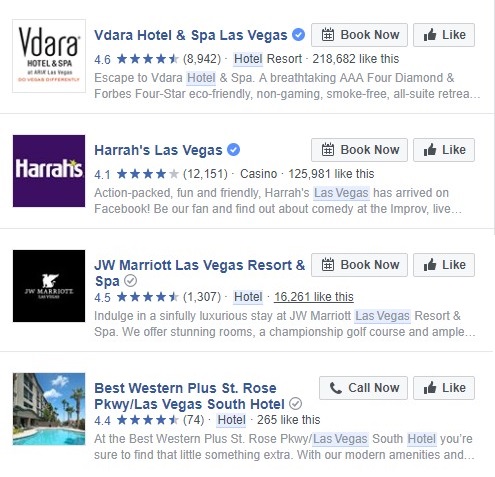 If your business belongs to a big chain, franchise, or corporation, you need to know that the main account run by the corporate marketing team will have a blue check mark while all individual local locations would have a gray checkmark.
Who Gets Verified on Facebook?
Theoretically, everyone on Facebook can get verified, however, since there are requirements for verification, others may fall short.
This explains why only some types of pages can be verified. Businesses that have a physical location will most likely be verified as gray badges since this is location-based, and it is much easier to obtain than the blue badge. Other page types that can also obtain Facebook verification are local businesses, organizations, companies, and public figures.
For your personal profile, obtaining Facebook verification is harder as you need to have a lot of friends on your account aside from other requirements that you need to comply.
Steps in Verifying Your Facebook Page
Make sure that your page is impressive before you'll have it verified because even if Facebook is not that strict with its requirements, you still need to appear credible and good-looking. Hence, your page must have a website, contact information, an "About" description, a long-form description, and several native contents.
Remember that only certain pages such as public figures, local businesses, companies, and organizations can become verified.
Start the verification process at the actual page. Go to your page's settings, and then go to "General" where you'll see the option for "Page Verification". That is if you qualify to get your page verified.

You can then choose between an "instant" verification, or for a lengthy verification process. If you choose the first one, you'll be given the option to have Facebook call your page's publicly listed phone number. After which, You'll be given a verification code, which you'll enter into the box Facebook provides you with.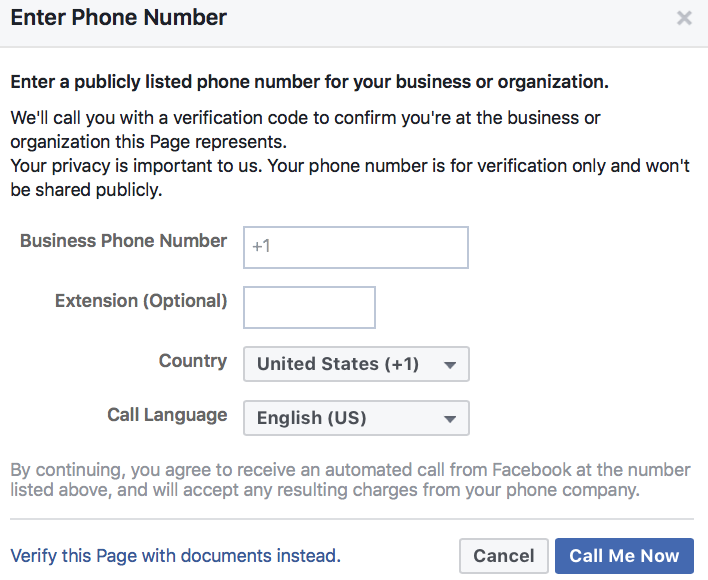 Then Facebook will award you with a gray check mark. If you think this method is not effective, you can also upload documents that show that you legally own the business. This includes business licenses, tax files, or articles of incorporation. Facebook will review them manually before approval.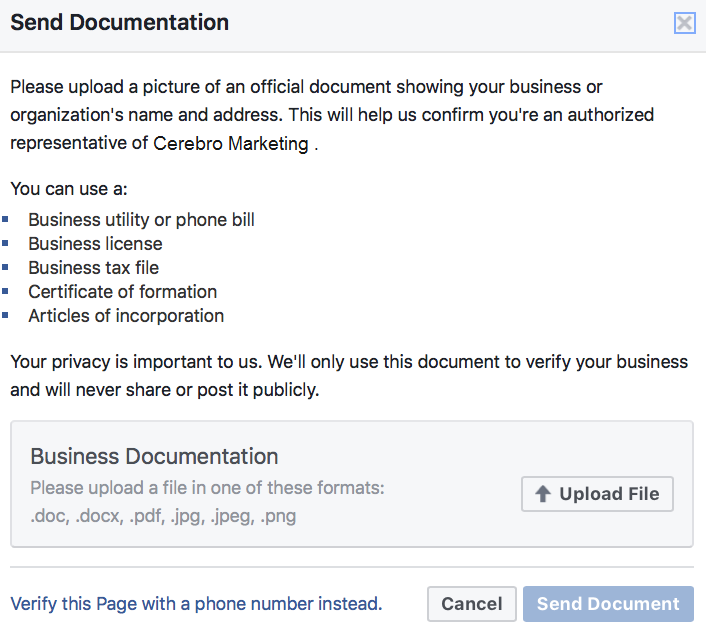 Verifying Your Facebook Profile
You'll find it more difficult to have your personal Facebook profile verified compared to a business profile. In fact, only those with a near-celebrity status will be able to get their personal profiles verified. This is because you need to get lots of followers.
After submitting your personal Facebook profile for verification, Facebook will get in touch with you and ask for documents that can help prove your identity. That is if they are serious in considering your request. However, it is still a lot easier to have a business page verified; so, you better create one now if you don't have one yet for your business.
The Length of Time for the Verification Process
The next thing you might need to know is how long will it take for your page to become verified. The length of time depends on many factors like the type of page you have and the availability of the Facebook team.
The number of followers that you have also matters. It also takes a bit longer to have businesses verified than some celebrities. Usually, takes 48 hours to 45 days, especially for the blue badge. It takes less time though to obtain a gray badge.
Dealing with Facebook's Rejection
After learning about the challenges in having your page or your profile verified, you may think of what to do in case Facebook does not grant your request. If you are not that fortunate to have your verification request granted, then just keep your cool as there are still other social media sites where you can do better. For example, you can improve your profile in Twitter and make it stand out.
You can place more relevant information on your page to make it more credible and to get plenty of positive feedback. If the reasons for rejection are not clear to you, you can also reach out to Facebook's support so you'll know the real reasons.
Conclusion
As social media plays a great role in the success of today's businesses, most marketers strive hard to build a strong online presence which includes having their page verified by Facebook. It can help them get the attention of their target market. By proving their worth to social media sites, especially to Facebook, they will be seen by their customers as a reliable business, and the more they will trust them.
It just takes a few steps to have your page verified – so go for it now!