Price extensions are a quick and efficient way to increase the size of your ad with pricing information on your product or service. There are two primary purposes for using price extensions:
Promptly express what products and services a site offers.
Bring users directly to the product they're shopping for.
Price extensions have the specificity and flexibility of other tools while beginning the shopping experience further down the conversion funnel. Price extensions can be added at the account, campaign, or ad group level, while most extensions can be swiftly edited down to the minute. All without changing the text ad or resetting performance statistics.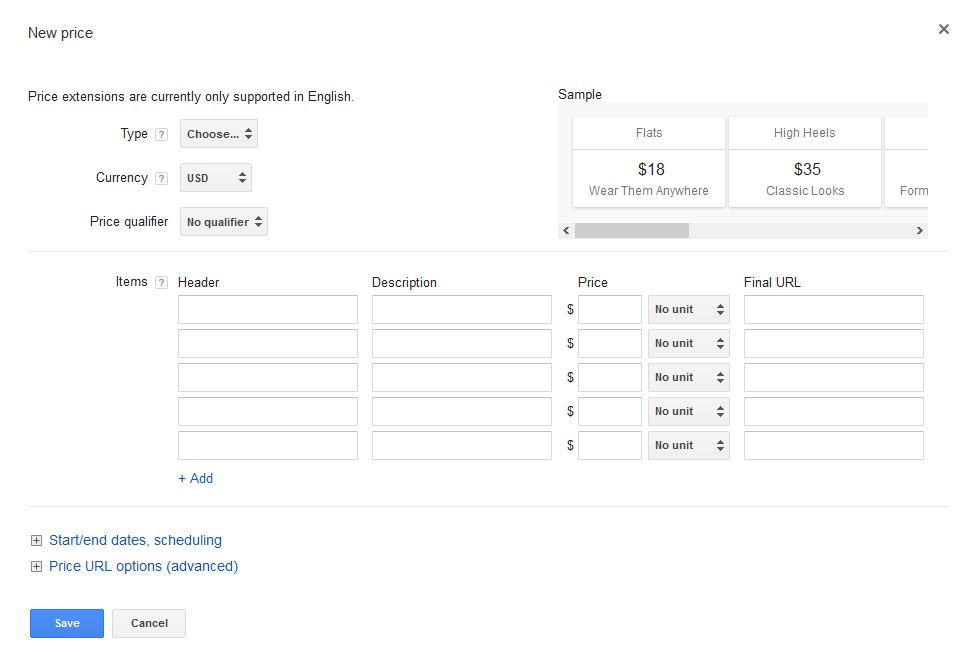 There are some additional requirements to maintaining a successful price extension that entail additional attention.
Scheduling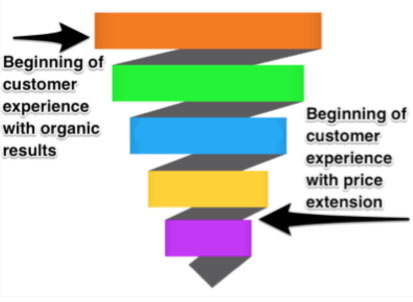 Just like many other things, timing is very important to marketing any business, and with price extensions, you can set to align them with certain days of the week or during promotions. For example, a restaurant offering happy hour specials can set their price extension to show discounted prices from 5 to 7pm and once the restaurant shifts into dinner hours the extension can be switched back. This adds another level of targeting to deliver a message when certain offerings are being sought more than others. Similarly, if a company is only taking inquiries during the business day, price extensions will only appear when they are open. Optimizing ads with extensions can increase visibility and users can derive new data as well. Strategic decisions can be learned by discerning which products are most clicked while appearing in price extensions, which then can inform the client of greater strategic decisions in a lower risk fashion. Adjustments made to price extensions such as switching products or targeting by different times can be made without creating new ads or resetting performance statistics.
Requirements
All AdWords guidelines and standards apply to price extensions in addition to other rules to follow:
Relevance: Headers and descriptions must pertain to the products listed in price extensions. Also, extension links must lead to the same final URL as the text ad.
New information: Extensions should not repeat anything mentioned in the text ad.
Price qualifications: Applicable conditions should be expressed when required.
Keyword insertion is not permitted.
No Download links
Other reasons a price extension may not be accepted could be due to Google's editorial standards, violations of the unavailable offers rule, inaccurate prices, or trademark disputes. Every part of a text ad should meet Google's editorial standards of clarity, proper capitalization, and spelling. Extensions cannot promote products that are not on the page. This violates unavailable offer rules and brings the relevance of the extension into question. When a valid trademark complaint is brought to Google's attention, content is then declined.
Billing
Even with the added benefits of price extensions, an advertiser is charged as though it is just another click. No advertiser will be charged for more than two clicks on one impression, regardless of where a user clicks. The same policies concerning duplicate or invalid clicks also apply to extensions, even if a user rapidly clicks on more than one link while viewing one impression.