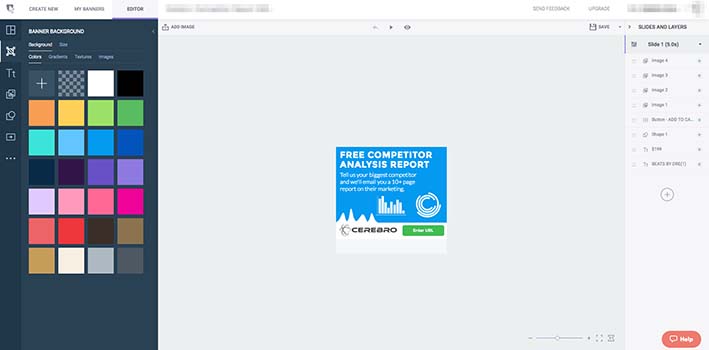 Top Online Tools to Create Display Banner Ads for Advertising
If you've been wanting to dip your toe into the world of marketing with banners, but don't have the money for a graphic designer, there are a few banner creation tools available online. Many of them have a free trial and the ability to upgrade to more premium features at a later date. While some of the sites are free, many of them require you to sign up with an email address or pay a small fee.
Bannersketch
With
Bannersketch
, you'll be able to choose from a wide variety of banner templates of varying sizes. There are over 1,300 prebuilt banners from which you can choose. There are theme choices like cartoon, grunge, kids or business. The program allows you to adjust background colors, font size, character type and frame outline. You don't have to have any graphic design experience to create a banner with the free program from Bannersketch. Moving banners are also possible with this program, and you can adjust the seconds between your frames for a customized .gif banner.
My Banner Maker
Whether you want to create banners for your website, social media profiles or to use as an advertising tool to promote your business,
MyBannerMaker
has banners as well as buttons. The banner creator used to be free, but now costs a small amount per year. Paying for VIP services will remove their branding from the bottom of the banner. You can save and edit banners from your account. You can create custom banners in a variety of sizes from Leaderboard banners to square pop-ups. The banner maker allows you to change the background gradient with a color picker or color code. Change the position, color and type of font for your banner too.

123-Banner
With
123-Banner
maker, you're able to create a variety of full flash-type ads for your marketing needs. It could be a banner with plain graphics, or it could be one with flashing fonts, sounds and movement. The file sizes are small even with flashing movement because it uses vector-based files. Along with banners, you can use 123-banner to create HTML slideshows. Slideshows are great for gaining traffic from other sources. You can take your current content and turn it into a slideshow quite easily.
Banner Designer Pro
This online software resembles the Paint program on your computer, but has tools that will help you create a banner. It supports multiple banners, which can loop and rotate together. It allows you to import animated sections of the banner as well as cropping individual elements like the timing, contrast and brightness. There are over 4,000 symbols and 450 backgrounds. It has prebuilt templates too. In order to use
Banner Designer Pro
, you'll have to download it to your computer. There's a free trial period before you're charged for usage, but all banners are saved with a watermark.
Google Display Network
Since many business owners are trying to advertise with Google, it makes sense that Google has its own ad builder titled
Google Display Network
. You can log into your Google account to find the ad builder in your Adwords account. Click the campaign button for the website you'd like to create an ad, find the Ad Button, and the program will walk you through creating an advertisement. If you already have current text-based advertisements, you can add images to customize them.You don't necessarily need a graphic designer to create your banners especially if you're giving them a trial run. The free options and those with a small fee are adequate for beginning your marketing with advertisements.