This tutorial is going to quickly show you how to get started with Google Adwords and Bing Ads. They are incredible ways to generate traffic to your website. If you are here, I assume you are already sold on the amazing benefits of Google Adwords.
So lets get started with Google Adwords.
AdWords is a complex system, but don't give discouraged. The benefits greatly outweigh the difficulties you may face and Adwords isn't really that difficult once you understand the user interface.
Even with a budget of a dollar a day, the service is worth trying to generate some instant traffic and data. Here are the two biggest reasons to use Google Adwords.
Generate instant qualified traffic to your website or landing page
Gather important search data to improve your website/landing page or discover a niche
Here's how to get started with AdWords (want to get up and running with search engine marketing in seconds? Check out AdWords Express instead.
Setting Up Your Account
If you don't already have one, set up a Google Account. Google Adwords works best when you combine its incredible wealth of data with Analytics and Google Webmaster Tools. More on that in a future tutorial.
Visit Google Adwords and click the Get Started or Sign Up Link.
Google Adwords has great customer service, so feel free to call the toll-free number to set things up offline.
Setup is straightforward, with prompts to help you along the way. Make sure to have a credit card handy to complete the billing area.
Want a promotional coupon?
Contact us to get the latest Google Adwords Coupon or Promo Code (example, spend $25 to get $100).
Setting Up Your First Campaign
Before setting up your first campaign, do some keyword research to discover the most profitable keywords. Our favorite keyword research tool is Spyfu.com. Spyfu provides some free keyword research. Just type in what you think your best keyword is (i.e. Las Vegas Auto Body Shop) and SpyFu does the rest. It will show you the best keywords to advertise on. This is an important first step. Targeting the wrong keywords can cost you thousands of dollars in wasted advertising dollars.
Do you have those keywords ready?
Let's plan out your campaign, but before we begin, lets dive into Adwords campaign structure.
Google's Campaign Structure
Google Adwords has a specific structure.
Campaign > Ad Group > Keywords > Ads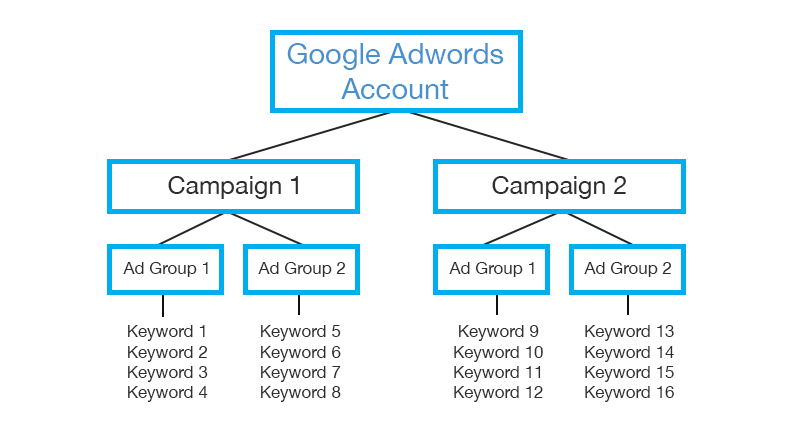 A campaign can be something broad like Dentists, while ad groups are more specific, such as Orthodontists or Cosmetic Dentistry.
So your campaign would look like this.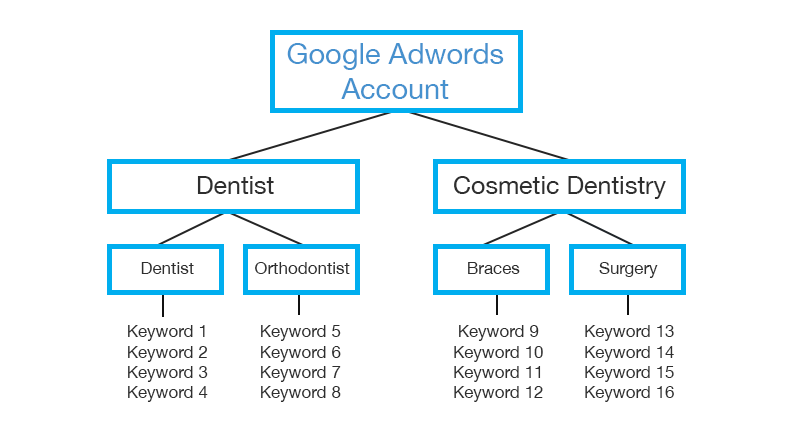 Each campaign can have multiple Ad Groups in it. Each Ad Group can contain multiple keywords and multiple ads. We recommend starting a general campaign to target all keywords and begin refining things as soon as data rolls in and you start to see your top performers.
Choosing the Advertising Vehicle
Click the Campaign tab, then the red + Campaign button. You'll have several options to choose from.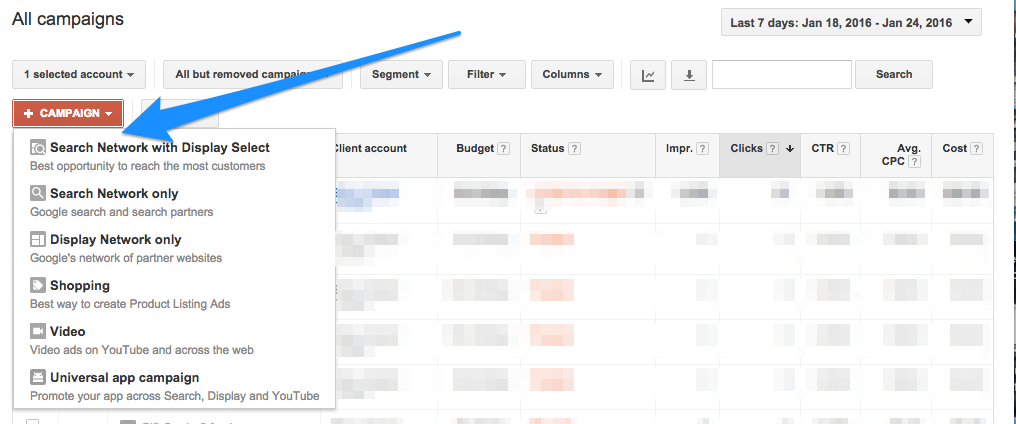 Here are our choices:
Search Network with Display – Show your ads on Google.com searches as well as on various websites that are part of the Google Advertising networks (Image Ads + Text Ads)
Search Network Only – Show your ads on Google.com searches (Text Ads)
Display Network Only – Show your ads on various websites (Image Ads)
Shopping – Show your ads on the right side of Google for product searches
Video – Show your ads on YouTube and across the web
Universal App Campaign – Promote your app across Search, Display and YouTube.
Here is a simple way to decide which advertising network is best for you.
Choose search for laser focused ads, expect higher costs per click but also higher conversion rates.
Choose display to build brand awareness, expect lower costs per click but lower conversion rates.
On the next screen, name your campaign and confirm your campaign type. Be sure to pay close attention to Locations.
Recommendation for Local Small Businesses: Click on Advanced Search > Radius Targeting > Type in your Zip Code > Target within 15 miles of your location.
Setting a Bid Strategy and Default Bid
Change the bid strategy to "AdWords will set my bids to help maximize clicks within my target budget".
At a later time, you will want to change your bid strategy to manual, to control costs and placement.  Set your budget for your campaign (daily figure) and the default bid amount, which is the cost per click you would like to spend.
At the very bottom of this screen you'll find AdWords' Ad Extensions, which let you add a phone number, address, and other information. This is important. it helps your ad stick out. Check out an optimized ad with extensions and one without it.
Advertiser A

Advertiser B

Notice the size. These advertisers pay the same amount per click (Advertiser A may pay less) however advertiser A has an ad significantly larger than Advertiser B. Take advantage, of any advantage in online advertising.
Create your first Ad Group
Depending on what network you chose, your options may differ. Choose an ad group name and begin creating an ad.
Note: For display, choose an ad group name and enter your landing page. Google will review your landing page and create some basic image advertisements for you to use. You have the ability to update or make changes to their ad samples.
Create Your First Ad
Each ad group should have several ads, but lets start with two for now. Create a strong headline (max 25 characters), we recommend using your keywords in your ad headline. For example, if you are targeting auto body shops as a keyword. Your headline could be Custom Auto Body Shop. Here is a good Auto Body Shop ad below.

your second ad will be a dynamic ad. This means, if Google has the room they will replace your ad headline with the users exact search. This is as close to matching user intent as possible If a user searches for BMW Body Shop, your ad would change to match that. See below.

If there is not enough space, the ad will show the default text after KeyWord:
Here is how to create a dynamic headline ad.

Congratulations, you have set up your first Google Adwords Advertising Campaign. The next step should be to enable conversion tracking. This will show you how many people complete a conversion or a sale. A conversion can be someone calling in, completing a form, or making a purchase.
That tutorial is coming soon! Need help now. Call us at 702-848-3800.
We recommend letting it run for a week and return to check on your stats.