In our last post we discussed
What an Adwords Remarketing Campaign is and why it is important?
In this tutorial we will show you how to start a remarketing campaign. First step is to sign up for
Google Adwords
.
Sign in with your Google Account or create one.
Set your budget, keywords, and create a simple ad
Set up your billing information
Review and complete
Once you complete the process you can pause that campaign since we want to start a remarketing campaign.
Setting up your Remarketing Campaign
After creating your account in Adwords. Click on
shared library
 on the left side menu and
view
under the audiences area.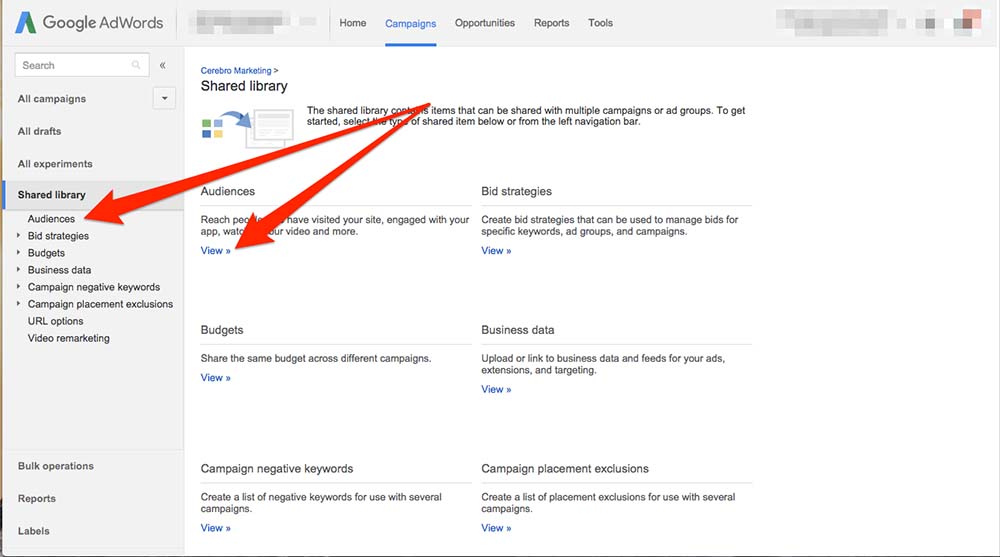 On the next screen you will have a few options. Select Set up remarketing underneath Website Visitors (your screen may look a bit different)

On the next screen you will have the option to set up dynamic remarketing. This is an advanced feature, leave it unchecked for now. Click on the
Set up remarketing
button.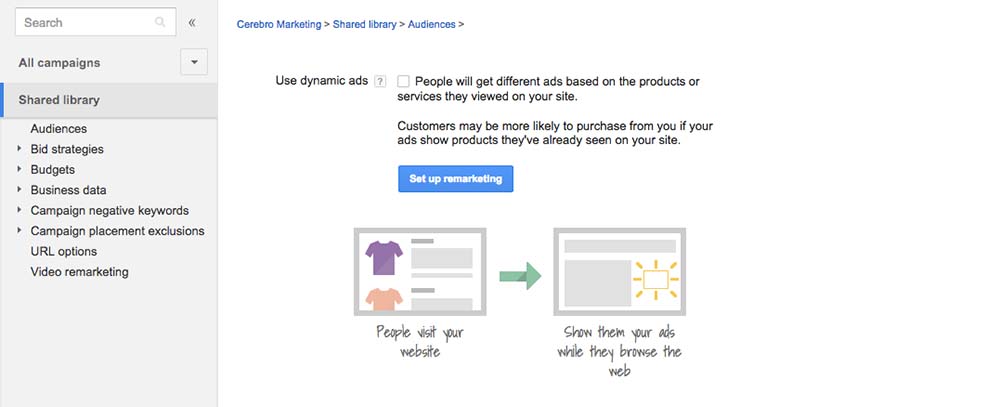 The next screen will provide you with a few options. You can either email the next step to your webmaster or you can do it yourself. For this tutorial, we will show you how to implement your remarketing tag. Click on the
View AdWords tag
for websites link.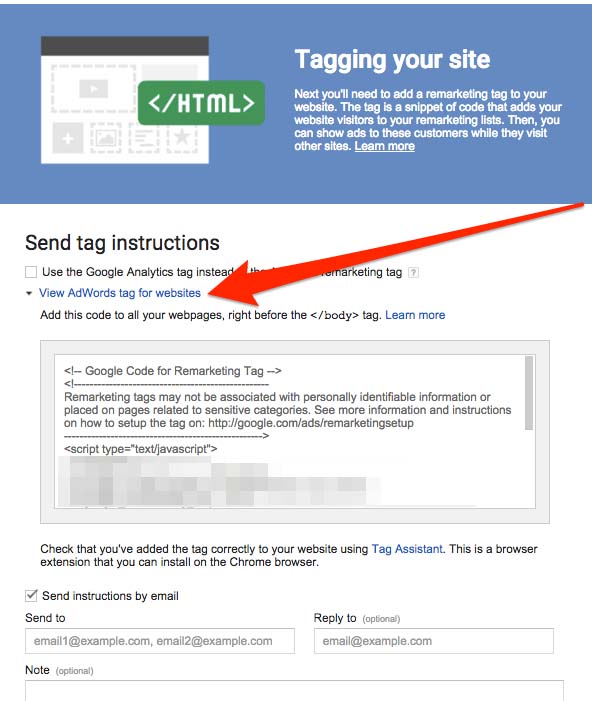 You will be presented with your remarketing tag. Copy and paste this to your clipboard. For this next part you need access to your HTML or Administrator privileges on your Content Management System (i.e. WordPress, Drupal, Joomla, etc). We will show you how to add it on your WordPress blog/website.
Adding a Remarketing Tag to a WordPress
We are assuming you already have Google Analytics installed on your site. If you don't, see our tutorial on
installing Google Analytics on your website
. Login to your WordPress and navigate to the
Appearance > Editor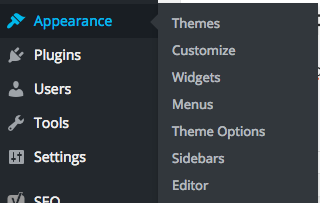 Each theme is different, however they should have a footer.php file. If you use a child theme (our preferred method) you can add the
remarketing tag
to your child's theme footer.php file. If you don't use a child theme, check our tutorial on installing a child theme in WordPress (coming soon). Paste the tag before your closing
</body>
on all your pages.
Checking Your Remarketing Tag
One of our favorite extensions is the
Google Tag Assistant
 for Chrome and Firefox. It's a great plugin to troubleshoot any issues and spot errors in your analytics reporting.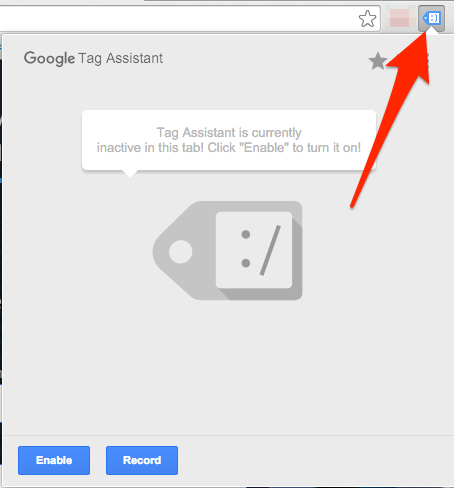 Once installed, click on enable and refresh your website home page. Click on the Google Tag Assistant icon and it will show you your Google Analytics Tag and Remarketing tag. It may also show you other tags installed on your website. If you see any red, you have an issue. Otherwise, you're all set.
Setting Up Your Remarketing Campaign
Now that you've got your
remarketing tag
firing on your website, it is time to create your campaign in AdWords. Click on the Create a Campaign button and select the Display Network.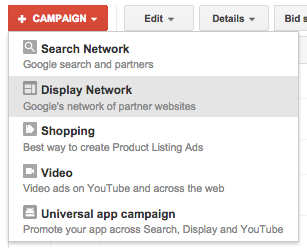 Select your budget, target location, and any other details you like. Create a new ad group and click on the
interests and remarketing
radio button. You can leave the other options their default settings.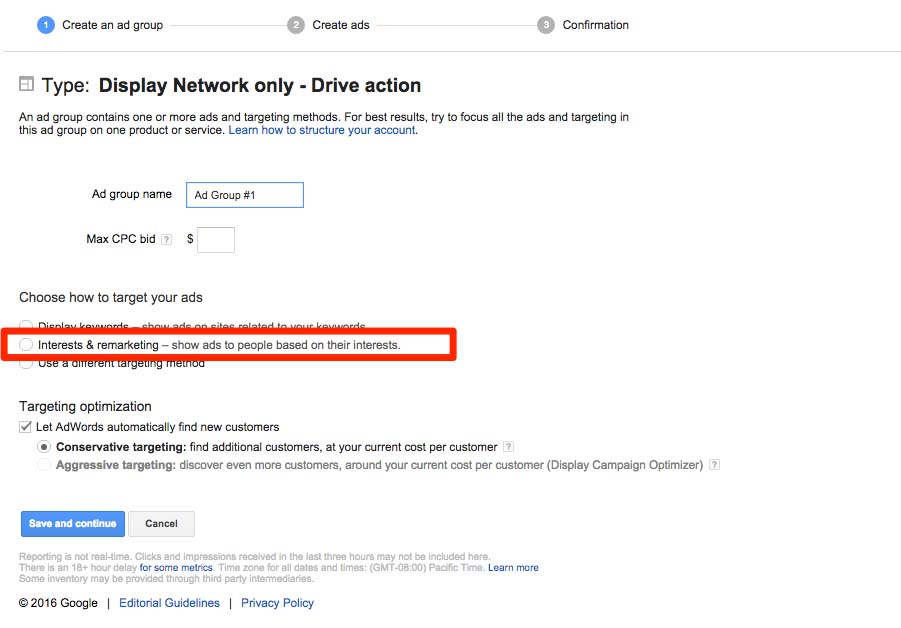 When you select interests and remarketing, you will be provided another drop down. Select
remarketing lists
and you will be given the option to move your all visitors list to the right side area. Click save and continue to move on to the ad creation area.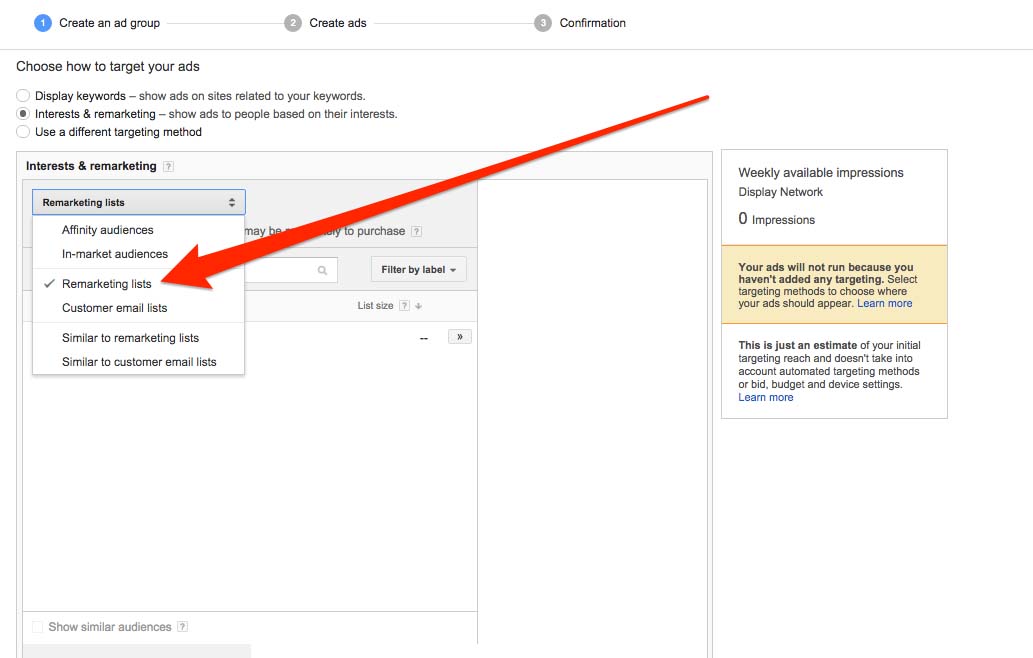 Marketing Tip: We recommend using both text and image ads.
Creating Image Ads in AdWords
Google provides you an awesome tool to create simple animated ads from your website. Choose the option to create an image ad. You will be presented with a screen to enter your URL. Once you do, Google will analyze your website, images and content, and develop HTML5 animated ads. You have the ability to make minor changes.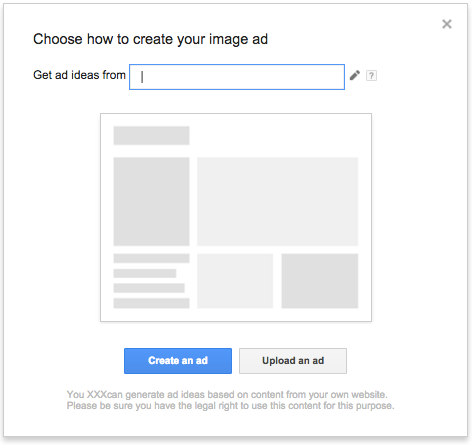 You will be given several image ad options. Choose your preferred ads and let's start editing.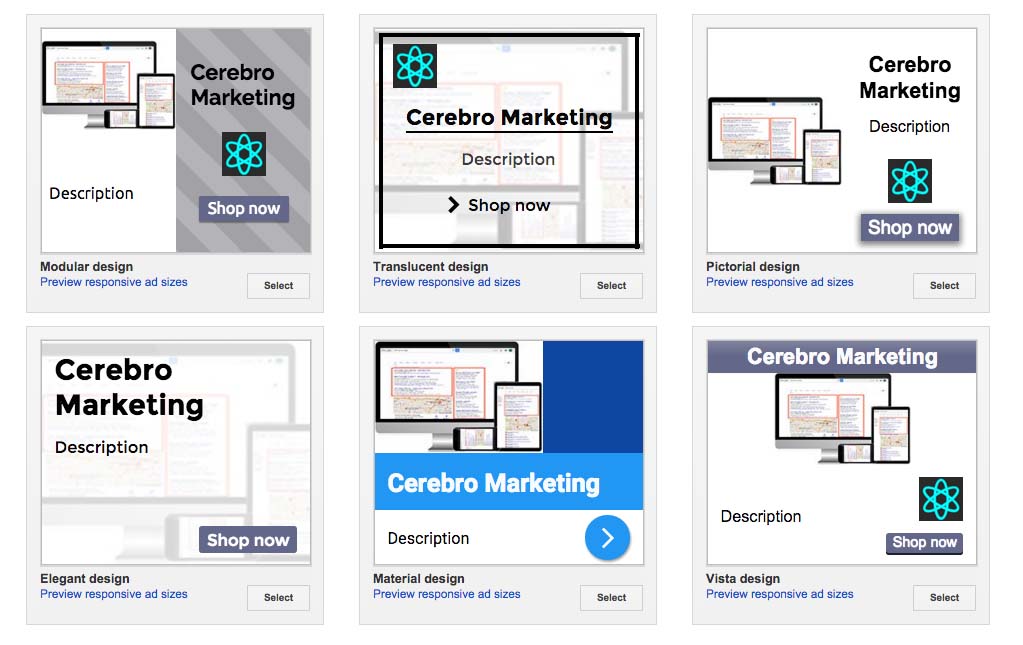 In the image ad editor you can change images and content. Save and continue. You have created a remarketing campaign. Google AdWords requires a specific amount of users to your site before displaying your image ads. Be patient and you should start receiving statistics shortly. Visit your campaign frequently and create more text ads and image ads.
How to Make Your Remarketing Campaigns More Effective
A remarketing campaign is designed to show your ads to people who have visited your website. Often times, they are shown to people who haven't completed an action on your website (contact form submission, purchase, etc). If someone doesn't convert on their first visit, several factors could be going on.
They were not ready to provide you their info or make a purchase
They were not convinced to continue
They found an alternative
Put yourself in your website visitors shoes and try to overcome objections. If you have an ecommerce store, try different ads with several offers. You may want to run offers for free shipping, instant discounts, free items, and more. Monitor the results and find out which ad is generating the most conversions. Many website owners can discover missed opportunities.
For example, if you notice that you have a high conversion rate on ads that offer free shipping, you may want to consider that sitewide to improve your sales.
You can use remarketing to get valuable information on why people did not convert on your website. More tips to come.