There's good news for small and big businesses and that is Google is making a lot of significant changes with their advertising products and solutions. This change can be summed up in one name which is Google Marketing Platform. It is a union between the DoubleClick advertiser products and Google Analytics 360 Suite. Hence, Google Marketing Platform's set of products will collaborate in one place to help you do a variety of tasks from planning, buying, measuring, and optimizing digital media and customer experiences.

Nowadays, a lot of people are utilizing their smartphones to open the internet and view pages. Thus, one of its updates biggest update reflects this behavior. Google ad's network now takes into consideration the user's platform, making it adapt to whatever device is being used to access.
Moreover, this new update gives itself a chance to give small businesses opportunities. They now offer small businesses options to advertise on its platform. They now have a "Smart Campaigns" option that will enable companies to create ads quickly and easily. The new update also has a new "Integration Center" which explains the way the new tools work and connect together. Other changes also include renaming AdWords as "Google Ads" and a product called "Google Ad Manager" which is a combination of DoubleClick for Publishers and DoubleClick Ad Exchange.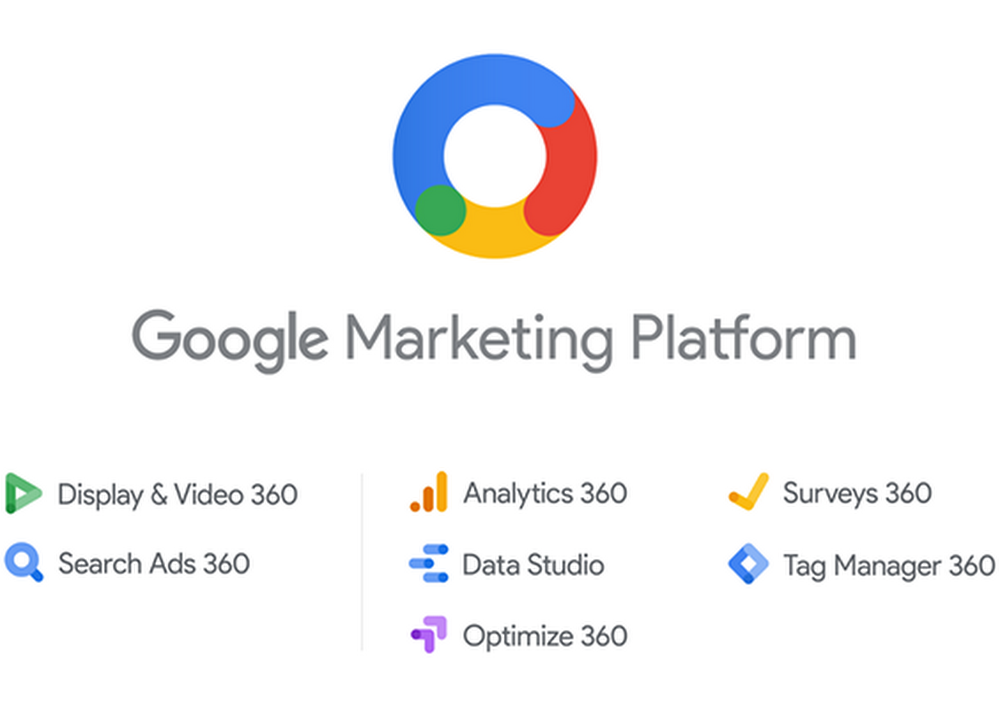 Aside from catering the needs of their users and customers, Google is also integrating all these updates since recent UPS Pulse studies have shown that online shoppers are using online marketplaces more than Internet search engines.
Benefits of the Google Marketing Platform
Google writes the following benefits:
Faster and Smarter Marketing – Your day-to-day processes are now automated. You can now use more of your time for strategic activities. This is all thanks to the built-in intelligence which automatically surfaces your ad trends and patterns.
Control Over Your Investments – You can now easily see which sections of your marketing are working in order so you can improve your performance.
Deeper Understanding of Audiences – You can integrate and access data to view who your customers are and identify which audiences are most valuable.
Share Your Insight – Each member of your company can view your audience, media, and business results so you can share
What is Google Analytics 360 Suite?
Google Analytics 360 Suite has digital analytic tools that can help you understand more about customer experience. This can then be shared with your entire organization. It can help you understand your site and your users to evaluate your content and products' performances. This July 24, it will become "Platform Home".
It's notable features include:
Data Collection and Management
Data Analysis, Visualization, and Reporting
Data Activation
Next Generation of Google Analytics
Google Analytics first emerged in 2018. Its come along way since then and is ready for its next regeneration. And yet, with many faces comes many interfaces. So Google has set out to simplify access and utilization.
And as one Google representative called this evolution:
"Simply put: it's a complete measurement platform."
Google recently announced they were combining its DoubleClick products and Google 360 Suite into one convenient platform: Google Marketing Platform This isn't the only change happening for Google as they are evolving Adwords into Google Ads as part of delivering a better experience.
What is DoubleClick again?
As a subsidiary to Google, DoubleClick is an ad serving service that allows PPC management agencies to connect to their customers. Hailing as one of the "most robust and sophisticated advertising technology on the market" according to some, DoubleClick has shown to be a powerful network and tool for online advertisers.
Google faced the potential issue and headache of having all of these platforms and reporting centers all over the place without too much apparent cohesion.
Google Marketing Platform strives to bring unity and streamlined strategy to its influential instruments.
How Do User Groups Work? Why Are They Useful?
There are a lot of benefits when you have user groups. In an article by Gina Marvin from Marketing Land, she writes about a lot of the positive effects of user groups. If you're subscribed to at least one product from Google Analytics 360, then you have access to user groups. User groups can be used to organize access and control product permissions across entire teams. They can also be shared with many accounts. This can be set up by navigating to the admin page and clicking on the User Management section.  As soon as you have user groups enabled, permissions for the 360 Suite and individual product accounts are assignable.
What is Data Processing Amendment and Why is it Important?
The Data Processing Amendment reflects the agreement of the parties. This is in respect to the terms that govern the security of Customer Data and the processing.
This one of the most crucial parts of the update because it guarantees users and parties' data protection, processing, scope, deletion, security, incidents, and transforms, among others.
The complete Data Processing Amendment can be found here.
New Google Marketing Platform features
The unified analytics platform offers opportunities for businesses, marketing teams, and agencies to collaborate while still utilizing the same tools that made Google Analytics and Google Suite 360 powerful in the first place.
Automation – Built-in intelligence for ad trends and patterns. Spend more time on strategy and improving either ad performance or online experience for your audience.
Collaboration – Agencies and teams can easily access reporting and data in one location, enabling everyone to view results and insights.
Integration – With Google cross-device and intent signals, the customer data in the new platform is broader and more complete, allowing you to identify your target audiences.
The platform includes everything from the Google Suite 360 and DoubleClick:
> Display & Video 360
> Search Ads 360> Analytics 360> Data Studio> Optimize 360> Surveys 360> Tag Manager 360
Here are some other features worth mentioning:
Branding – A facelift on imagery across the interface, help centers, and education materials.
Platform Home – Home base for more administrative control.Integration Center – Like the name suggests, you'll see opportunities for integrating other products and how they maybe assisting your marketing.Product Switcher – Navigate easier between products with the common product switcher.
Changes to Google Analytics 360 Suite products
Individual product functionality, such as Google Analytics or Optimize, will remain the same. This also includes all existing integrations across products – no action is required from you to maintain existing links. Billing for Google Analytics 360 Suite products will continue as normal.
When you sign in to your account after July 24, you'll see the following changes:
New Google Marketing Platform features: You'll see the new Google Marketing Platform features listed above linked from the new common product switcher.
New Platform Home URLs:
The URL you use to access Platform Home will change from 360suite.google.com to marketingplatform.google.com/home, and the help center will change from support.google.com/360suite to support.google.com/marketingplatform. This will happen automatically, and all existing links for Suite Home and the 360 Suite Help Center will redirect to the new URLs.
Updated naming for advertiser and publisher products: You'll see updated naming for Google's advertiser and publisher products throughout your accounts.
Within Google Analytics, for example, all report names and related metric and dimension fields reflect the new product names:
Acquisition reports for AdWords will use the new Google Ads name.
Acquisition reports for Google Marketing Platform products will be grouped together and use the following names:

DoubleClick Bid Manager reports will use the new Display & Video 360 name, and metrics and dimensions will refer to DV360.
DoubleClick Search reports will use the new Search Ads 360 name, and metrics and dimensions will refer to SA360.
DoubleClick Campaign Manager reports will use the new Campaign Manager name, and metrics and dimensions will refer to CM.

DoubleClick for Publishers behavior reports will use the new Google Ad Manager name, and metrics and dimensions will refer to GAM.
You'll see similar naming changes across all products.
Summary
Much may stay the same, like Google Analytics and Optimize functionalities will remain the same as well as billing; however, what digital marketing agencies are really excited about are the cross-device reporting and the cohesive data that will come from unified interfaces. With better analytics and data, business will be better equipped to deliver better content and answers to their customers.